Update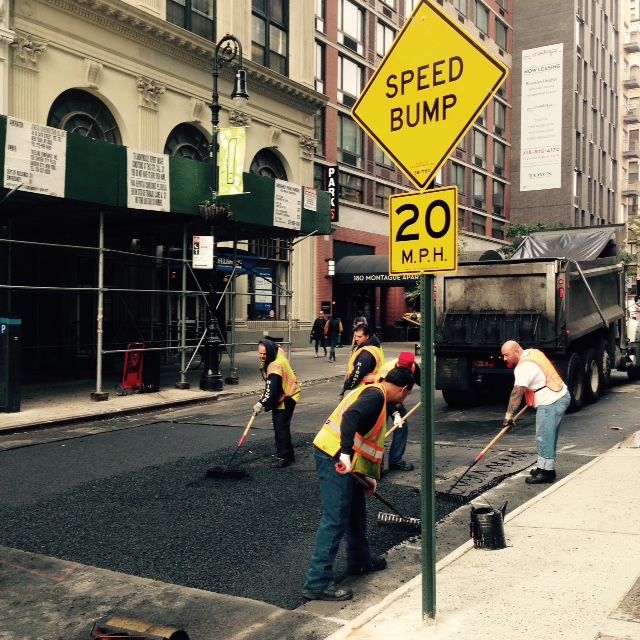 Following further advocacy by the BHA, which reflected input from nearby residents, DOT has  installed a 22nd speed bump on Hicks Street north of Clark Street.
About this Issue   
The Slow Zone Program was created by the City to reduce the speed limit within select neighborhoods from 30 mph to 20 mph using speed humps, signage, and stepped-up enforcement, all of which aim to change driver behavior. The program's goal is to reduce the number and severity of vehicular crashes and injuries to both drivers and pedestrians.  Where Slow Zones have been implemented in New York City, the result has been a 10-15% decrease in speeds, 10% reduction in crashes with injuries, and 27% reduction in vehicle injuries.
The NYC Department of Transportation (NYCDOT) selected Brooklyn Heights in 2013 as one of 15 new Slow Zones to be implemented citywide. Brooklyn Heights' selection reflected the strength of the BHA's application, which emphasized the number of schools and day care centers and the extensive support of residents, elected officials, and other stakeholders. Over 90% of the 560 individuals who responded to the BHA survey and lived in the neighborhood favored the Slow Zone.
In September 2015, DOT installed 21 speed humps throughout Brooklyn Heights, which will increase to 22 in 2016.  These humps rise gradually and extend only partly into the parking lane.
Learn More
More information on the Brooklyn Heights Slow Zone can be found here.