BQE Reconstruction Project Is Focus of the BHA's February 28th Annual Meeting


The BQE triple cantilever is well beyond its design life and wear-and-tear from 150,000 vehicles daily, road salt, and water penetration are accelerating its deterioration. The ongoing repairs to the cantilever are costly, but do not address its defects and design deficiencies. Only major reconstruction will extend its life another 50-75 years, which will require more than five years to complete starting in the early 2020s at a cost of nearly $2 billion. This project will be the focus of the BHA's Annual Meeting on Wednesday, February 28th , 7 – 9:30 PM, at St. Francis College's Founders Hall at 180 Remsen Street. Robert Collyer, NYC Department of Transportation's Deputy Commissioner and Chief Bridge Officer, will make a presentation and answer questions from the community.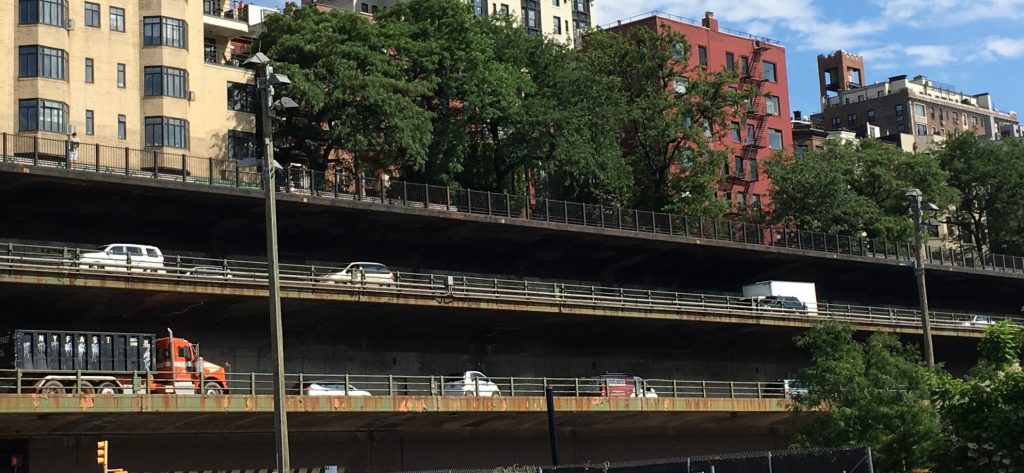 Design-Build vs. Design-Bid-Build
A key issue facing NYCDOT are the two alternative approaches to implementing the BQE Reconstruction Project: Design-Bid-Build vs. Design-Build. Under the traditional Design-Bid-Build approach, NYCDOT would hire a consulting firm to design the project and prepare a bid package, followed by a bidding phase in which contractors would submit qualifications and their bid to undertake the reconstruction. Once the contract has been awarded, negotiated and executed, the construction phase would begin. By contrast, the Design-Build approach skips the intermediate bid process, since the design and construction of the project is awarded to a single entity, typically a consortium, with expertise in both areas. To ensure that NYCDOT would get a fair price, the contract would be awarded competitively.
There are many advantages to a Design-Build approach. The elimination of the bid phase would save at least two years, which translates into reducing annual inflationary costs. Equally important, Design-Build also eliminates the inherent conflict between the designer and the builder found in the Design-Bid-Build approach. It is manifested by delays due to design disputes, the need to negotiate contract changes, i.e., change orders, and the potential for lawsuits over disputes. The Design-Build approach also allows the consortium to evaluate cost saving designs by performing value engineering at an early stage of design. NYCDOT has estimated that Design-Build will save $113 million on the BQE Reconstruction Project.
The Urgency Behind State Authorization of the Design-Build Approach
NYCDOT cannot use the Design-Build approach without State authorization. While the Legislature has authorized eight State agencies and authorities to use Design-Build, it has balked at allowing New York City to use it on any project. Bills have been introduced during the previous two years to give the City this authorization, but they have failed to pass in the Senate. At the same time, Design-Build has been used by the NYS Department of Transportation to build the new Koskiuszko and Tappan Zee Bridges in record amounts of time and at great savings.
Should Design-Build legislation fail during the current legislative session, it will have serious consequences for the region and Brooklyn in particular. NYCDOT has concluded, based on careful engineering analysis, that if the reconstruction project is not completed by 2026 – which can only occur with a Design-Build approach – it will likely be forced to divert up to 16,000 trucks daily from the triple cantilever onto local streets. In addition to causing severe traffic congestion throughout Brooklyn, the trucks will endanger the lives of our most vulnerable citizens – the very young and the elderly – and businesses will suffer due to delayed deliveries. Increased air pollution and noise will degrade our quality of life.
The Community's Support is Critical to Enacting Design-Build
There are two ways in which we, as Brooklyn residents, can exert pressure on our State elected officials to enact Design-Build legislation: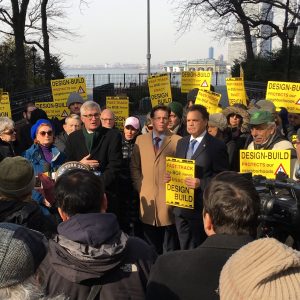 1. Write or call Governor Cuomo and Legislative Leaders.
Download this template letter and send it to our legislative leaders. Please identify if you are a resident or represent a stakeholder organization, and send your signed letter by email or mail to:
Governor Andrew Cuomo: On the web  or telephone: 518-474-8390
Speaker of the Assembly Carl Heastie: speaker@nyassembly.gov, or telephone 718- 654-6539
Senate Majority Leaders John J. Flanagan: Flanagan@nysenate.gov or telephone 631- 361-2154
2. Participate in Meetings in Albany with Legislators on March 6.
The BHA is chartering a bus to take stakeholder representatives and Brooklyn Heights residents to Albany on March 6th to meet with key legislators and convey the importance of Design-Build to our communities. There is no cost for the trip, but seats are limited and will be reserved on a first come, first served basis. If you are interested in going on the Albany trip, please  register here or call 718-858-9193.
A big thank you to our members and to all local residents who attended the rally on February 9, sponsored by Senator Brian Kavanagh and Assemblywoman Jo Anne Simon. Your engagement has a real impact. If you were unable to attend (or if your ear muffs prevented you from hearing the speakers), here is a link to a Brooklyn Daily Eagle article by Mary Frost.
The Project's Next Step: Environmental Impact Statement
Before the BQE Reconstruction Project can begin, NYCDOT must conduct a City Environmental Quality Review (CEQR) to consider its environmental effects, other aspects of project planning and design, evaluate alternatives, and develop appropriate and practical mitigation measures. As part of preparing an Environmental Impact Statement (EIS), NYCDOT's first step is to determine the range of issues to be evaluated in the Draft EIS. Accordingly, NYCDOT is seeking public comment on the scope of the EIS through Monday, March 12 at 5 PM. The Draft Scope of Work can be obtained online or in a hard copy at these Brooklyn Libraries: Main Branch, Brooklyn Heights Branch, and Walt Whitman Branch.
A public meeting on the CEQR process will be held on Tuesday, February 27th from 5-8 PM at the Dock Street School, 19 Dock Street in Dumbo. A presentation will be followed by public testimony on the Draft Scope of Work. Written comments can be mailed or emailed to:
Tanvi Pandya, Project Manager
BQE Project Team
605 Third Avenue, 3rd Floor
New York, NY 10158
Email: info@bqe-i278.com