February 9, 10:00 AM | Brooklyn Heights Promenade at Montague St.
The 1.25 mile segment of the BQE under the Promenade needs to be reconstructed urgently. If the Reconstruction Project is not completed by 2026, according to NYC Department of Transportation (DOT) engineers, the accelerating deterioration of the triple cantilever will require that up to 16,000 trucks per day be diverted onto local streets.
How can we avoid this nightmare scenario?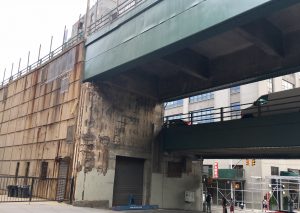 This worst case scenario can be forestalled only if DOT is allowed to use an approach called "Design-Build."  It eliminates an intermediate RFP and bidding step, which enables a design-contractor consortium to save both time and money in implementing a project. Both the Kosciuszko and Tappan Zee Bridges, for example, are being completed in record time by New York State under a Design-Build contract. Unfortunately, the State has not yet authorized the City's use of Design-Build on the BQE Project. This legislation must be enacted NOW.

Senator Brian Kavannagh, Assemblywoman Jo Anne Simon and the Brooklyn Heights Association are sponsoring a rally on February 9, at 10AM, on the Promenade at Montague Street in support of Design-Build. Please join us to send a clear message to Albany that Design-Build authority must be enacted this Spring.