October 29, 10:00 AM
This is your chance to clean out those closets! The lower East Side Ecology Center is hosting an e-waste event with the First Unitarian Church. This event will take place RAIN OR SHINE in front of the First Unitarian Church on Pierrepont St and Monroe Place, from 10am to 2pm.
They will accept: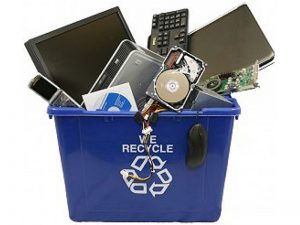 Computers (laptops & desktops, servers, mainframes)
Monitors (CRT and flatscreen)
Network devices (routers, hubs, modems, etc.)
Peripherals (keyboards, mice, cables, cords, chargers, etc.)
Tablets and e-readers
Components (hard drives, CD-ROMs, circuit boards, power supplies, etc.)
Printers under 100 pounds, scanners, fax machines, etc
TVs, VCRs, DVRs, DVD & Blu-ray Players
Digital Converter Boxes, Cable/Satellite Receivers
Portable music players
Audio-visual equipment
Video-games
Cell phones, pagers, PDAs
Telecommunication (phones, answering machines, etc.)
They will NOT accept:
Batteries (except lead-acid batteries from UPS (uninterrupted power supplies) systems, rechargeable batteries can be dropped off for recycling at any store that sells them, also check out IKEA and Staples stores for battery recycling.
Humidifiers
Kitchen appliances
Vacuum cleaners
Media, such as disks, DVDs, VHS tapes, cassette tapes, etc. Please visit greendisk.com to purchase a shipping label to get these items recycled.
For more information, visit the LES Ecology Center FAQ page.