The BHA is going to Albany with other local stakeholders to lobby our legislators to enact Design-Build authority. This will allow the BQE Reconstruction Project to be completed sooner and should help avoid diverting truck traffic onto local streets.
The 1.25 mile segment of the BQE under the Promenade needs to be reconstructed urgently. If the Reconstruction Project is not completed by 2026, according to NYC Department of Transportation (DOT) engineers, the accelerating deterioration of the triple cantilever will require that up to 16,000 trucks per day be diverted onto local streets.
How can we avoid this nightmare scenario?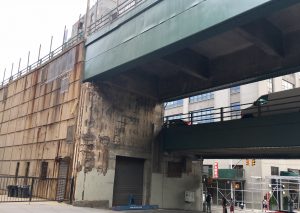 This worst case scenario can be forestalled only if DOT is allowed to use an approach called "Design-Build."  It eliminates an intermediate RFP and bidding step, which enables a design-contractor consortium to save both time and money in implementing a project. Both the Kosciuszko and Tappan Zee Bridges, for example, are being completed in record time by New York State under a Design-Build contract. Unfortunately, the State has not yet authorized the City's use of Design-Build on the BQE Project. This legislation needs to be enacted NOW.
The Brooklyn Heights Association is sponsoring trip to Albany on March 6
We have booked a bus and have invited many local stakeholders to accompany us to Albany to lobby State legislators. Please join us! Transportation to and from Albany will be free, though everyone must put down a $30 deposit to book their spot. This deposit fee will be refunded to all persons who board the bus and go to Albany.
Pick-up and drop-off at Cadman Plaza West, opposite Pineapple Walk
Bus will leave promptly at 7am on Tuesday, March 6, and we will depart Albany at approximately 4:30pm and arrive back in Brooklyn at about 7:30pm.
When
March 6th, 2018 7:00 AM through 8:00 PM
Event Fee(s)
| | |
| --- | --- |
| Reserve your spot | $ 30.00 |