On Thursday, June 4, almost ten thousand people gathered at Cadman Park to mourn George Floyd, as a simultaneous memorial was taking place in Minneapolis. Diverse hands, voices, and colorful signs were raised, and all knelt in solidarity with Black and Brown Americans who for too long have endured discrimination and abuse. Speakers included George's brother Terrence Floyd, civil rights leaders, and a host of elected officials.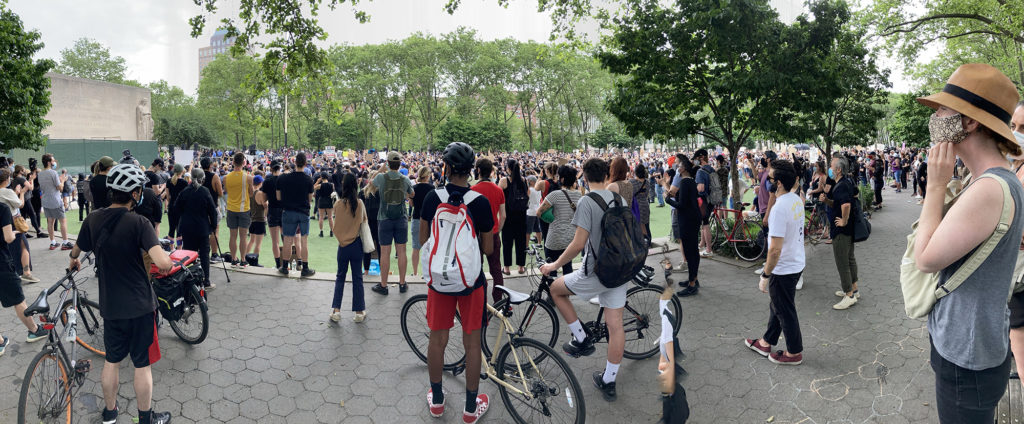 The Brooklyn Heights Association stands with Brooklynites, New Yorkers, Americans, and citizens of the world who are protesting the tragic murders of George Floyd, Breonna Taylor, Ahmaud Arbery, and too many others. We condemn biased law enforcement and call on our leaders to ensure that our policing is fair and just.
Our neighborhood's role in the history of the abolitionist movement is well-known: Brooklyn Heights was a stop on the Underground Railroad, and was the place from which Henry Ward Beecher's powerful anti-slavery sermons reached audiences around the world. And yet, after so many years, the full promise of that movement remains unfulfilled. The events of the past ten days are a renewed call to do more to eradicate racism. As a community organization, we must push harder for true equity – in our neighborhood, our borough, and beyond.