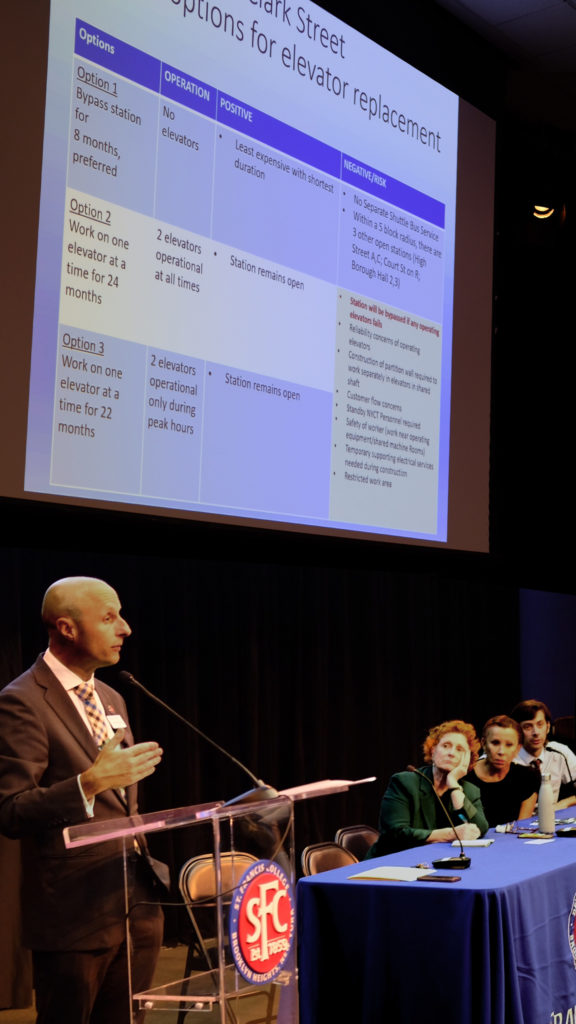 The community came out in full force on September 16 to hear and be heard on the issue of the possible subway station closure at Clark Street. To kick off the meeting, NYC Transit President Andy Byford presented three different options for repairing the aged and failing elevators in the Clark Street 2/3 subway station. President Byford repeatedly said that he was interested in hearing from the community and that no decision had been made. A survey was distributed…and the results are in!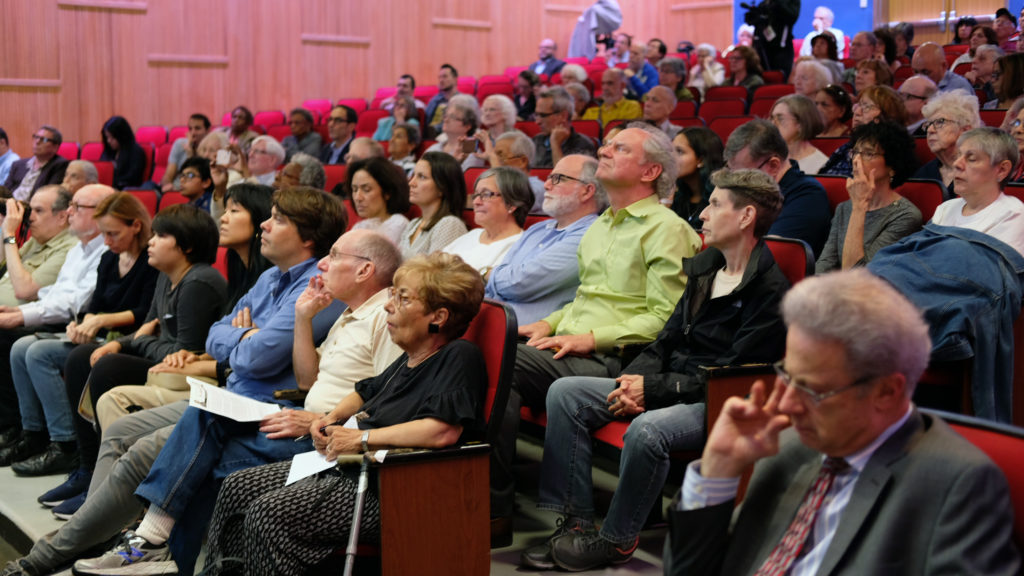 A summary of the options presented:
Option #1 would mean the subway would bypass the station entirely for a period of 8 months while new elevators were installed. The station itself would remain open and the businesses within the station would be accessible to customers. This is the option preferred by the MTA. According to the agency, it would be the quickest and the least expensive.
Option #2 would involve work on one elevator at a time over the course of 24 months, leaving two in operation at all times. Because of safety rules related to emergencies, two elevators need to be in operation at the same time.
Important to note for Options 2 or 3: trains may be required to skip the station during peak times in emergencies, or if one or more of the operating elevators fail. Given the current elevator failure rate, the MTA estimates this could occur as frequently as one or two times a month.
Option #3 would involve work on one elevator at a time over a 22-month period. Two elevators would be in operations only during peak times, with all trains skipping the station during weekends and off-peak times. 
Link to PDF of their slideshow.
Survey results
A total of 687 responses were collected immediately following the public meeting, in-person at the subway station, and online. Overall, 62% of respondents preferred one-elevator-at-a-time replacement, with either a 22- or 24-month duration, while 38% preferred full closure with an 8-month duration.

While the great majority (86%) of survey respondents completed the survey at the station or online, it is worth noting that of the 14% who completed the survey at the end of the public meeting, 79% favored full closure, compared with only 24% of those who completed the survey at the station, and 33% who completed it online. View full results and background.
We appreciate the effort both NYCT and our electeds have undertaken in order to solicit public opinion – and we now ask that NYCT take seriously what community members are saying regarding their preferences. Above all, we expect transparent decision-making regarding the station going forward. We remain committed to working with the NYCT, elected officials, and other stakeholders to mitigate the negative impacts the elevator replacement process will have on local businesses and residents.
Read more about the survey results in the Brooklyn Daily Eagle.