May 1, 10:30 AM | Pierrepont Playground
Building on the success of last year's inaugural event we are bringing our day of service back – this year bigger and better!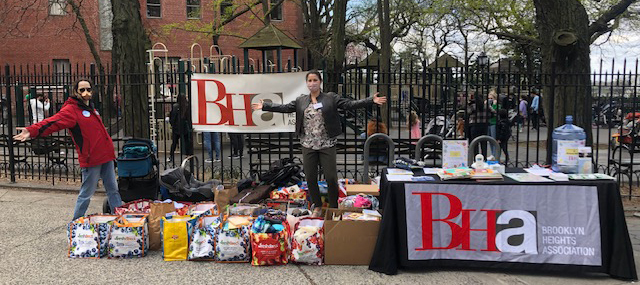 The BHA is offering you a few different ways to support our community, along with other Brooklynites in need. Here are some of the ways you can get involved:
Donate gently used children's supplies
From 10:30am to 12:30pm on Sunday May 1st at Pierrepont Playground, the BHA will be hosting a book drive for the Brooklyn Book Bodega. Bring us your gently used and new books for ages 0-18 including foreign language, dual language, and nonfiction books. Please no religious, textbooks, activity books, encyclopedias, broken, or missing pages books. Here is a list of popular book requests. If you would like to volunteer to help us sort and organize the books as they come in please email us at info@thebha.org 
We will also be collecting children's items for Little Essentials which offers at-risk families living in poverty urgently needed children's supplies and parenting education to promote the health, wellbeing and safety of their children under five years of age.
We can accept:
• Diapers (opened packs are okay).
• Wipes, diaper cream, baby body wash (unopened).
• New/unopened infant hygiene items like shampoo, soap, etc.
• Spring/Summer Clothing and shoes (size newborn to 5 years) – we cannot accept off-season clothing.
• Pack 'n plays and bassinets.
• Car seats – infant, toddler, booster (click here to review waiver) sanitized/no crumbs or stains.
• Baby carriers and slings.
• Strollers – single and double (no jogging strollers; sanitized/no crumbs or stains; snap and go strollers must come with car seat).
• Ikea and Fresh Direct bags – new/used bags needed for transporting items to the families we serve.
• Paper towels (unopened) and rubber bands.

Please keep in mind all items should be new or very gently used.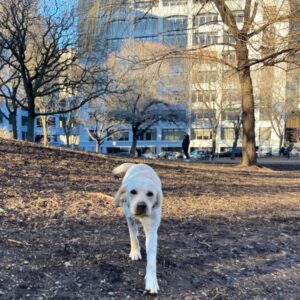 Volunteer at the Hillside dog park
Calling all dog lovers! Help us spruce up the Hillside Dog Park. We're partnering with the Friends of Hillside to support a clean-up and planting effort at the Hillside Dog Park. Head over to the park starting at 10am on May 1 to get to know your fellow canine-loving neighbors and help beautify the park. You'll also have a chance to learn more about the efforts of the newly launched Friends of Hillside Dog Park.
Donate your time — or money — to help spruce up the teacher's lounge at PS8
Help us provide the hard-working teachers and staff of PS8 with a new lounge! We all know that teachers have a tough job and have worked heroically throughout the pandemic to give our children some normalcy along with a safe and supportive place to learn.
The BHA is organizing an effort to renovate the teacher's lounge with new furniture, paint, décor, appliances, and more! Thanks to our generous supporters – Target, Jason's Handyman Services, DUMBO Moving and Storage, and Sawyer, we're close to meeting our goals. BUT, we still need your help to raise the $5,000 necessary to complete the project in style and show the faculty how much we appreciate them. You can donate to the BHA's special PS 8 Lounge Renovation Fund on our website – rest assured 100% of your contribution will go to this effort.
We are also looking for a small group of volunteers who can help in the morning on May 1 st at PS8 with clean-up, painting, and more. Please email info@thebha.org if you'd like to help in person.
Clean up the Neighborhood in Partnership with Council Member Lincoln Restler
May 1| 11AM-1PM | Meet at the corner of Joralemon Street and Henry Street at 11am
Join Council Member Lincoln Restler's Office and the Brooklyn Heights Association for a community clean up. Help us improve the cleanliness of our streets and sidewalks. The Department of Sanitation will be providing tools and supplies.
Sign Up Now: bit.ly/brooklynheightscleanup