January 11, 6:00 PM | The Heights Casino
Enjoy an acapella performance by the World Famous HARVARD KROKODILOES, and have dinner at the Heights Casino, while raising funds to fight the DOT's Promenade Highway plan.
January 11th, 2019, Performing Live at The Heights Casino.
Choose your ticket option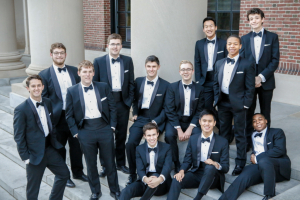 Cocktail Reception and Warm-Up Concert in the Sunken Doubles Court, An Acoustical Wonder. $100
OR
Cocktail Reception and Warm-Up Concert in the Sunken Doubles Court PLUS Formal Concert in Governors Room Followed by Private Dinner with The Krokodiloes & Guests. $250

Buy your tickets now!
Concert Beneficiaries
The Brooklyn Heights Association is the organized voice of the Heights. We work to preserve our historic buildings, protect the views, advocate for thoughtful urban planning, and promote safety and security on our streets. When there is a threat, we help to organize the community's response. With over 100 years of experience, we have a proven track record of working with public officials and getting things done. Our strength comes from numbers. That's why membership in the BHA is so important. The more members we have, the stronger our voice; the more financial support we generate, the more impact we have in pursuing actions to protect and advance the community's interests.

All proceeds we receive from this concert will be restricted to our BQE fund, which we set up to fight the DOT's plan for a Promenade Highway. Can't make it to the concert? Donate here. All donations to the BHA are tax-deductible.
A Better Way NYC (formerly Save the Promenade) is a grassroots group founded a few months ago in response to the NYC DOT's proposed BQE redevelopment plan, which would replace the Brooklyn Heights Promenade with an elevated six-lane highway. ABW is committed to identifying alternatives to this plan, which would cause irreparable damage to the NYC community and its economy, while shrouding neighboring areas in hazardous pollutants and destroying a national historic landmark.
For more information, please visit: www.abetterway.nyc