As the COVID-19 crisis evolves rapidly, check this page for updated resources compiled by local organizations and our representatives.
We are currently in Phase 4 of re-opening.
Rent Relief Program
If your income has been hurt by COVID-19, you may qualify for the City's Rent Relief Program. See if you qualify and apply now!
Brooklyn Heights Together
| | |
| --- | --- |
| The people who work in our community are part of our community. From store clerks to delivery people, from salon workers to kitchen staff, these men and women contribute in countless ways to our quality of life. That is why we created the Brooklyn Heights Together Community Relief Fund to support qualifying hourly workers who have been displaced from their jobs in Brooklyn Heights by the Covid-19 pandemic. We launched this campaign on May 5th and we were thrilled at how quickly the community mobilized in solidarity. By May 31st we had doubled our initial goal and raised a whopping $50,000! We are now distributing the emergency cash to those who have applied and we are no longer taking contributions to this fund. However you can still support our work by becoming a BHA member or donating to our General Fund here. | |
How to apply for an emergency cash grant
The BHA is working with the Arab American Family Support Center (AAFSC) to process the grant applications and disburse the funds. Located in neighboring Cobble Hill, AAFSC is a non-profit, non-sectarian, organization established in 1994 to provide social services to immigrants and refugees.  AAFSC has a staff that speaks 22 different languages, including Spanish, Albanian, Bengali, Chinese, and Arabic and is experienced in administering emergency assistance.
Please contact
Kerry Sesil | Director of Development and Communications
Arab-American Family Support Center
kerry@aafscny.org
718-643-8000
Read more about this campaign in the Brooklyn Paper or view the clip on News 12 which aired on May 20. Download the FAQ sheet with more details on the program, or download the Press Release. 100% of your contribution will be given to the grant recipient. Brooklyn Heights Together is independent of BHA membership or other contributions.
City and State Resources
We encourage you to consult government links for the most current information concerning social distancing, activities and of course medical needs.

The City has a number of resources available to assist individuals and organizations, as well as opportunities to volunteer. All of this information is available here.
For updates from the Department of Health go here.
For City alerts in English, text COVID to 692-692.
For City alerts in Spanish, text COVIDESP to 692-692.

Extensive resources and information compiled by Borough President Eric Adam's office.

NYS Comptroller, Thomas P. Dinapoli published a Financial Survival Toolkit for New Yorkers

Testing
NYC is opening testing sites citywide, but there are delays in getting test results. Call 1-888-ONEMED1 or go to onemedical.com & use code NYCCARE30.
CITYMD on Montague Street is now offering COVID-19 testing.  Check out the details before going.
Additional Resources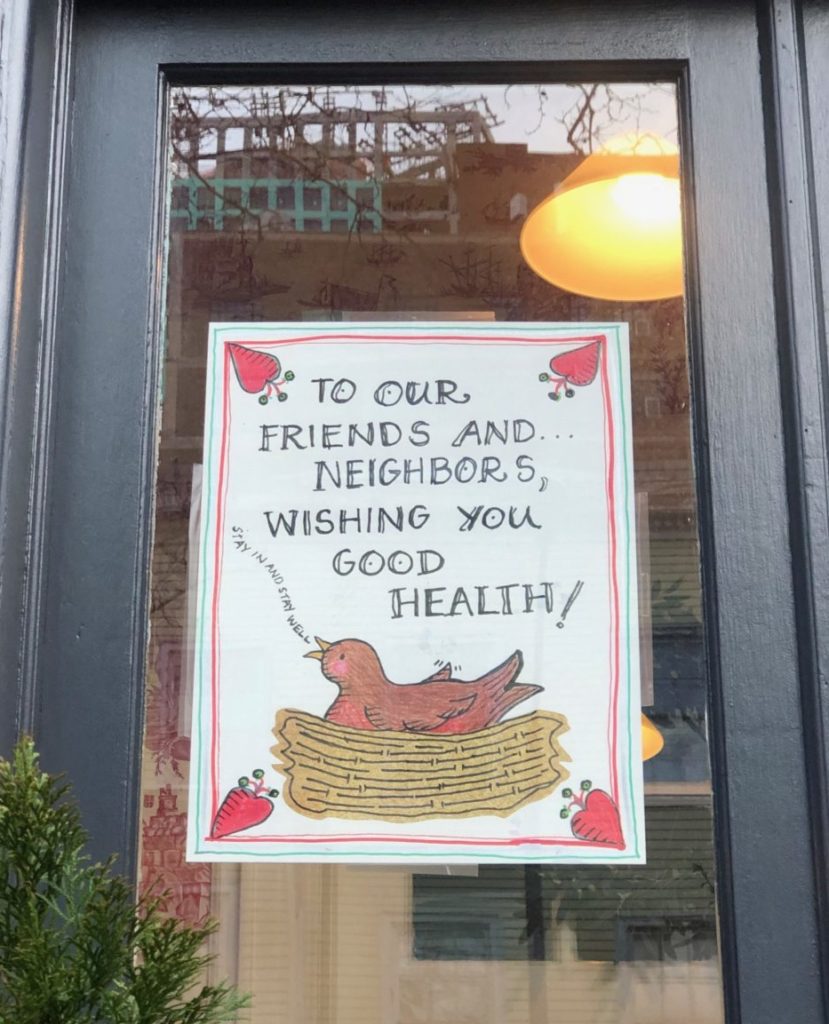 The Montague Street BID is maintaining an updated list of open businesses along with links to support for small businesses, job seekers, and various other relief funds.
A compilation of COVID-19 Resources for Small Business from the Brooklyn Chamber of Commerce.
Need Help or Want to Offer Help?
To support local businesses, Brooklyn Donates has compiled a list of verified Venmo or GoFundMe accounts to aid businesses in Brooklyn Heights and other Brooklyn neighborhoods.


A group called Brooklyn Mutual Aid has formed to provide direct support for residents of Boerum Hill, Brooklyn Heights, Carroll Gardens, Cobble Hill, Columbia Waterfront and Williamsburg.
If you need help and want someone to run errands, mail letters, pick up groceries, get prescriptions, etc., you can call or send a text to (929) 314-0899 or email brooklynmutualaid@gmail.com. Just include your name, the neighborhood you live in and what you need help with.
If you want to help, go to this website and follow the instructions.

If you want to donate BLOOD, this search tool will help you find a nearby location. The only regular Brooklyn blood donation center is at Maimonides in Borough Park.
Looking for a job?
Work AND help defeat the pandemic by becoming a contact tracer! New York City is looking to hire 1,000 contact tracers immediately, particularly people with experience in the healthcare field. The contact tracers will interview people who are positive for COVID-19, identify others who may have been exposed, and follow-up with those people in turn to be tested. Hiring will be done through the Fund for Public Health. Visit FPHnyc.org for more information, or email covid-19jobs@fphync.org.

In the interim, apply for unemployment online at www.labor.ny.gov/signin. If you are filing a new UI claim, the day you should apply is based on the first letter of your last name:
A – F file on Monday | G – N file on Tuesday | O – Z file on Wednesday
Missed your day? File on Thurs-Fri-Sat
If you need to apply in a language besides English, you will have to call the UI hotline: 888-209-8124, 
New Online Resources from the Brooklyn Public Library
Brooklyn Public Library (BPL) recently launched a Virtual Library in response to the Coronavirus crisis, with expanded offerings for patrons of all ages.
To stay up-to-date on the latest BPL Virtual Library resources and programming:
▪ Sign up for BPL's "Bookmark" newsletter
▪ Call a librarian at 718-YOUR-BPL or 718-968-7275

Entertainment
Here are a few links to some free online entertainment to add some levity to your days and nights:
To access free Broadway shows, click here
To tour museums around the world, click here
For some culture, visit Google Arts and Culture
Here's a schedule of free Live Stream Concerts
New York Public Library offers free ebooks, movies and more here
Take a virtual tour of New York State park here
For paper craft projects you can make at home go here
Free pattern to sew a face mask… but if you don't sew, Brooklyn Bridge Parents compiled a list of local mask-makers.