The Brooklyn Heights Association and A Better Way are jointly sponsoring a BQE Town Hall on Wednesday, April 3rd beginning promptly at 7 PM at Plymouth Church, 57 Orange Street. Doors open at 6:30 PM.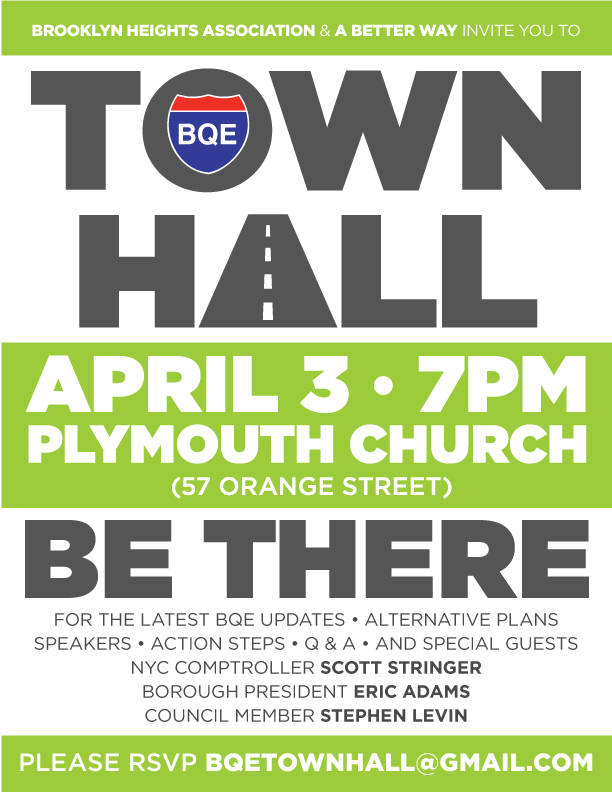 Please share this email and flyer with friends and neighbors to ensure that all 1,000 seats are filled so that the community can send an unambiguous message to Mayor de Blasio, Commissioner Trottenberg, and our elected officials that we will not accept DOT's current plans to rebuild the BQE.
Both of the DOT's current plans are unacceptable. The plan for a "temporary" 6-lane highway on the Promenade for a minimum of six years has galvanized local communities with its panoply of environmental and economic threats: traffic congestion, air pollution, noise from nighttime construction, destabilization of nearby buildings, detriment to neighborhood businesses, and the closing of the Promenade for years. We also reject the DOT's "Traditional" lane-by-lane plan which would flood our local streets with traffic.
The BHA and ABW have been unrelenting in their efforts to demand that DOT develop a better, less destructive and more forward-thinking temporary solution that will give consideration to people and not just traffic. DOT must anticipate the region's future transportation needs rather than restoring a 1950s version of highway planning.
We will be joined by Comptroller Scott Stringer, Borough President Eric Adams, and Council Member Stephen Levin, all of whom are critics of the DOT's plans, and Marc Wouters, who has worked with the BHA to develop one temporary alternative that opens the door to many permanent solutions.
Be there on April 3rd to send a resounding "No" to DOT's current proposals and join us in helping to develop a more innovative solution. And don't forget to tell your friends and neighbors to attend as well. We would appreciate an RSVP if you plan to attend.